Showcasing co-innovation with our clients and partners
As a proof of its commitment in innovation, NTT Limited launched in November 2019 its Client Innovation Center (CIC) in Brussels. This brand-new co-innovation space allows clients to experience the infinite possibilities of new technology first-hand, including innovation previously demonstrated at the NTT R&D Forum held annually in Tokyo. The CIC has been designed to showcase innovative technologies and inspire visitors by addressing their digital transformation challenges.
NTT features leading developments in big data, artificial intelligence, machine learning, IoT, biosensors and wearables, virtual and augmented reality, and security and encryption. This gives you access to disruptive and inspiring co-innovation use cases and prototypes, developed by NTT R&D and our co-innovation partners.
Our Client Innovation Center brings use cases and prototypes developed by NTT R&D and all our partners with 3 objectives in mind:
#1
Have our clients experience the "art of the possible" in our Innovation Center.
#2
Turning dreams into proof of concepts.
#3
To prototype the future, through Co-Innovation with our clients.
Virtual Tour
The usecases shown at our CIC in Brussels are now also available virtually to allow our clients to experience the CIC remotely. During this virtual tour of approximately 1 hour, our innovation strategists will take you through some inspiring use cases on big data, artificial intelligence, machine learning, Internet of Things (IoT), biosensors and wearables, virtual and augmented reality, security and encryption.
Reach out for booking virtual tour
From dream to Proof of Concept
Virtual Ideation
Following an Innovation Centre introduction, and a view into the world of NTT R&D, the ideas usually start flowing. It is key to capture that moment - and to see if these ideas can be converted into Concepts for Co-Innovation.
Our Innovation Strategists have worked out a structured approach, and can initiate the Design Thinking process with an ideation workshop to complement your visit.

Design Thinking is a proven methodology for problemsolving, with surprisingly creative results.
Starting from the a dream, or a high-level business challenge, our aim is get to the point where we select the best and most relevant ideas to take along on our innovation track.
As a result of the Covid pandemic, most of our Ideation Sessions are now 100% online. The principle, however, remains the same. With a group of motivated people, and a well-defined business challenge, we combine our creativity and we look for an innovative way forward.
Mural and Microsoft Teams are the only tools required; all the rest is teamwork.
Reach out for booking virtual ideation session
Prototypes
The final stage is to implement co-innovation experiments & prototypes to demonstrate the business value and technology readiness.
Prototyping involves producing an early, inexpensive, and scaled down version of the solution in order to reveal the value and the feasibility. It can also investigate how a sample of users think and feel about the solution.
One of the prototypes the EU CIC realized is the virtual assistant "Agatha".
Agatha is a portable face recognition app on a tablet that recognizes patients who have an appointment at the hospital and who register with e-ID. The app will give them specific instructions on route/procedure to follow and notifies the doctor's cabinet when the patient has arrived. The app was initially built for a regional hospital in Belgium.
Working together on this project, both the hospital and NTT Belgium contributed to the innovation table. With our technology and capabilities to execute coupled with the hospitals data, environment and the openness to involve patients and staff members resulted in a successful co-innovation project. It's through this spirit of innovation that Agatha, the virtual healthcare assistant, was created.
Our Client Innovation Center showcases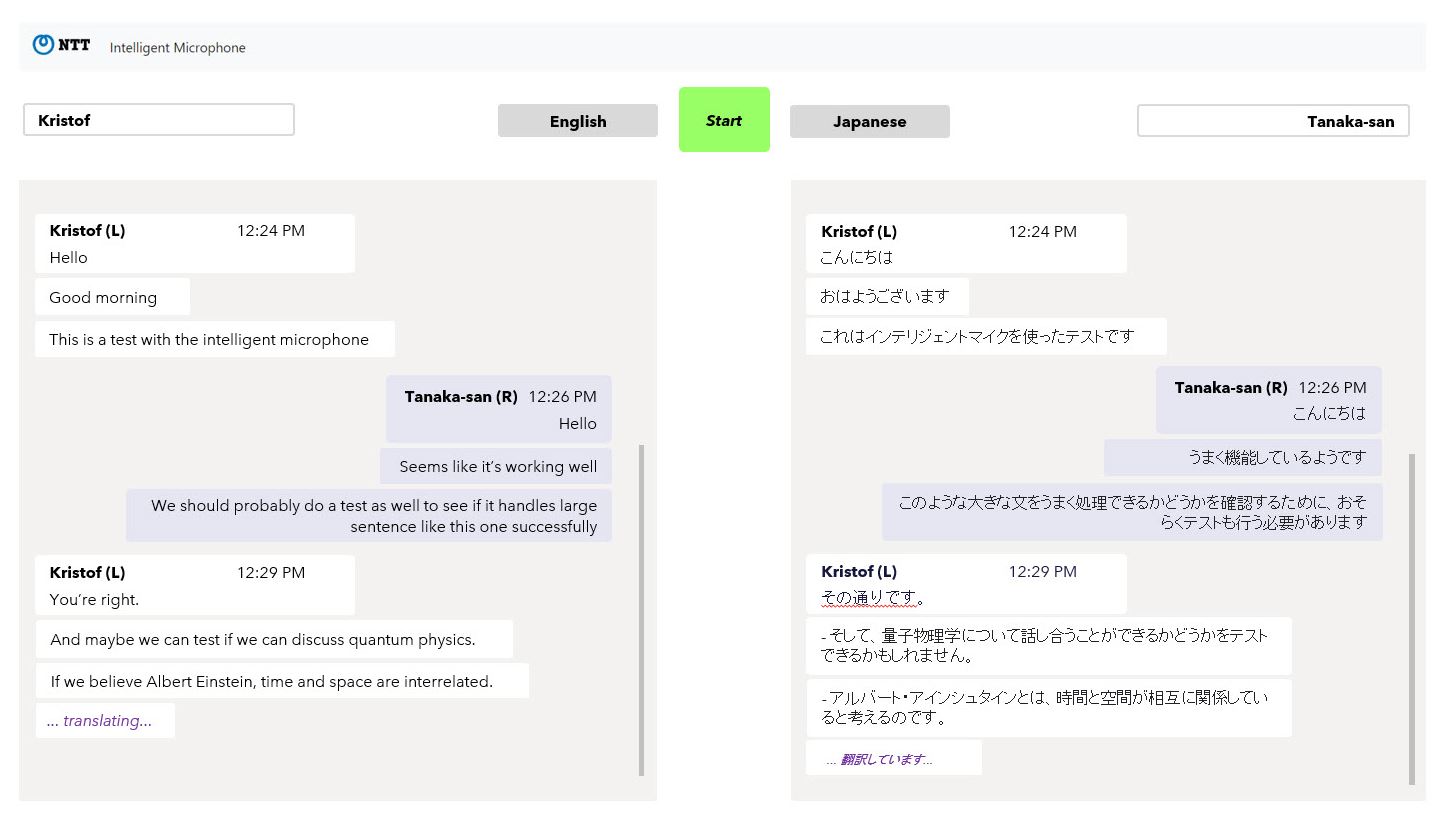 Intelligent microphone
This intelligent microphone from NTT AT can reduce ambient noise and clearly pick up sound. It also supports multiple speakers, separating the voices of multiple people surrounding the compact microphone equipment and picking them up separately. With Microsoft Azure's Speech, the voices of multiple people talking different languages can be translated simultaneously.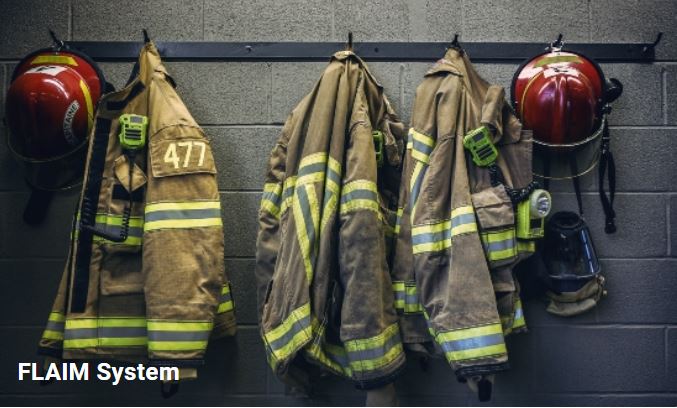 FLAIM System
Transforming the way fire fighters are enabled. FLAIM Trainer is an immersive VR and haptics feedback simulator integrated with biosensing data to train and assess firefighters for dangerous scenarios that are hard to reproduce in reality, expensive and environmentally harmful. The full emulation of various fire scenarios and a haptic system create realistic scenario attributes, such as heat, force and intensity, to help with the training of firefighters and while measuring the trainees' biometric information to assess physiological impact and screening.
Learn more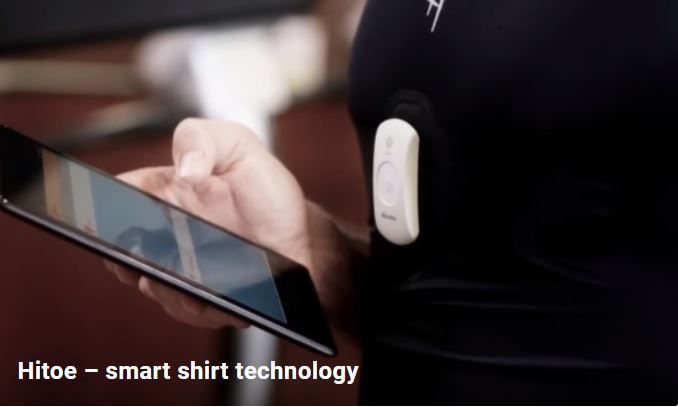 Hitoe - smart shirt technology
Smart shirt technology Hitoe creates new experiences for sports fans. It gathers hundreds of data points per second, including body heat, muscle strength, hydration levels and heart rate. The user's biological data can also be combined with other data, for example, from a race car to visualize the driver's driving technique. This data can be analysed further to understand body movement, enhance performance and improve training.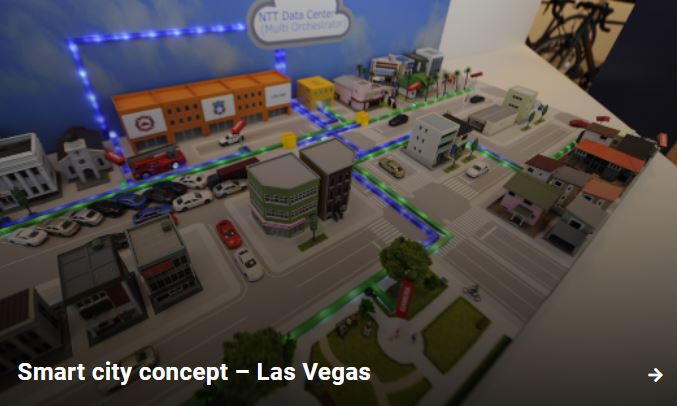 Smart City Concept Las Vegas
This smart city concept embraces advanced technology to create an interactive city that provides intelligence to optimize citizen services. We deployed high-definition video cameras, sound sensors, as well as Internet of Things (IoT) devices to monitor a geographic area within the city's innovation district. By leveraging cognitive analytics, artificial intelligence and machine learning technologies, the system learns patterns and can detect and alert the authorities to abnormalities, reducing response times for first responders.
Learn more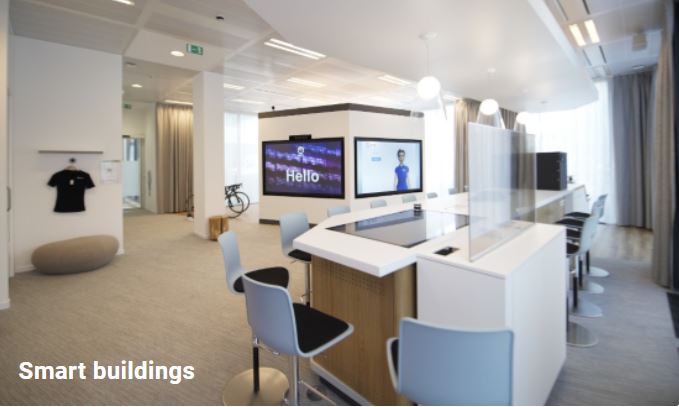 Smart Buildings
The Internet of Things (IoT) is creating a new breed of smart buildings, improving operations and providing the best possible employee experience. Learn how the IoT building blocks we used to create the CIC let building systems talk to the cloud and analyse building data, driving real value and greater performance. This creates an open ecosystem with a frictionless user experience. And since it's an open system, it's future proof and easy to build on to.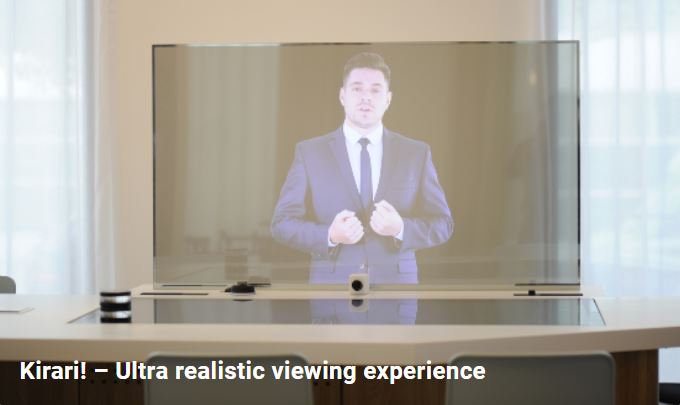 Kirari! – Ultra realistic viewing experience
Imagine the future of fan engagement. Kirari! transforms the way we watch sports. Immersive telepresence technology brings ground-breaking, ultra-realistic viewing experiences to sports fans. You'll see how organizations will communicate, educate, entertain and deliver services in the near future. It's an immersive telecasting capability that can virtualize events and project them into other environments in real time. Imagine how CEO roadshows, election campaigning and education could be changed forever!
Learn more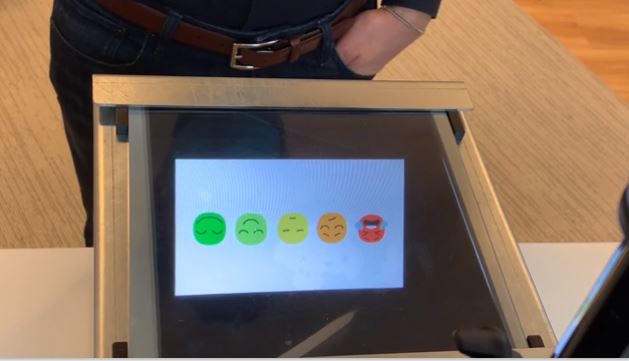 No-Touch-Touchscreen
The touchless kiosk is a combination of (depth)sensing technology and a special ASKA3D reflective plate. This floating-in-the-air, contactless interface aims to resolve hygienic & security concerns involving public screens.This technology sends light emitted by an image or object through a special glass plate and collects that light on the other side of the plate at the same distance, to create an image or object identical to the original. The plate consists of methodically positioned vertical mirrors. The structure of its regular patterns that are measured in hundreds of microns can only be achieved with the cutting-edge manufacturing technology typical of products that are 'Made in Japan.'
Watch video
About NTT Ltd
NTT Ltd. is a leading global technology services company. Working with organizations around the world, we achieve business outcomes through intelligent technology solutions. For us, intelligent means data driven, connected, digital and secure. Our global assets and integrated ICT stack capabilities provide unique offerings in cloud-enabling networking, hybrid cloud, data centers, digital transformation, client experience, workplace and cybersecurity. As a global ICT provider, we employ more than 40,000 people in a diverse and dynamic workplace that spans 57 countries, trading in 73 countries and delivering services in over 200 countries and regions. Together we enable the connected future.