Accelerate teamwork for business resilience
To be successful today, you need to accelerate teamwork and ensure seamless collaboration.
Business resilience is as much about employee and customer engagement, as it is about the enabling technology.  With modern collaboration tools and applications you can connect your people in a seamless and secure way.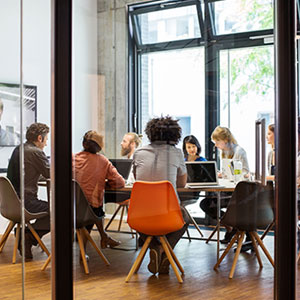 Cisco Webex Teams
Cisco Webex Teams offers a wide range of integrated communication tools that make application silos for video, telephone, and online conferences a thing of the past.
Find out more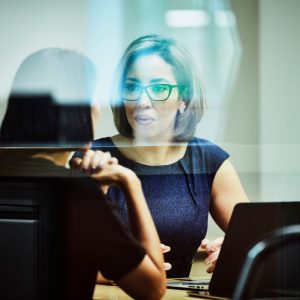 An individual working environment
Using the building blocks of this platform, we tailor an individual work environment that optimally fulfils all your communication needs. As a long-standing Cisco partner, we're able to build a virtual conference room for you that bundles all functionality and is easily available anywhere in the world.
Find out more
Driving a new approach to the workplace
The world of work is at a turning point. The current global pandemic, along with labour flexibility, technology transformation and environmental trends are transforming the way we work.
As organizations have accelerated their digital transformation to enable employees to work from anywhere, the rapid shift to a more distributed workforce has driven a new approach to the workplace.
It's time to reimagine the workplace of the future.
Download business resiliency guide

Your one place to call, message, and meet
Seamless anytime, anywhere collaboration is now critical. Through our partnership with Cisco, we're able to deliver collaboration solutions for a more agile workplace and enhanced employee engagement. Together, we help you keep your teams connected, in a seamless and secure way, whether you choose a cloud, hosted, or on-premises model.
01.
Messaging
Create messaging groups for teams or projects. In this way, your teams are always up to date. No information is lost, and virtual teams can communicate with each other via video, web and phone at any time.
02.
Meetings
One click is all it takes to expand your ongoing phone call into a video or web meeting. Any online conference can also be started easily on a PC or smartphone.
03.
Calls
Cisco Webex is a complete telephone system in the cloud, without the complex management of a conventional telephone system.
04.
Integration
The Cisco Webex Teams app bundles all the functions you need, on a device of your choice. Your virtual conference room is available anywhere, at any time, without restrictions.
Connect with anyone. Anywhere. Anytime.
Employees and customers today expect flexibility in anytime, anywhere communications. And the future is only going to demand more of it. That's why organisations are turning to the cloud for agility and more dynamic ways to collaborate.
You can now take advantage of the cloud with confidence, and without compromise. Extend your collaboration capabilities to the cloud for collaboration that is more secure, more scalable, and more ready to serve your future business needs.
With a secure global multisite connectivity and cloud-based collaboration your teams are able to:
Cisco Cloud Calling
Enhanced user experience in a single Webex platform
Together with Cisco Cloud Calling, we offer you a comprehensive collaboration solution from the cloud that can completely replace your conventional telephone system.
Accelerate your modern collaboration, ensuring you remain agile, competitive and connected.
Flexible collaboration without the complexity
One purchasing plan to meet your current and future collaboration needs.
With subscription-based billing and access to the full suite of Cisco collaboration tools, you can provide the services your users require, as and when they need them. You'll be able to reduce the complexity of multiple licensing, boost efficiency and drive adoption across your organization:
A secure-by-design global platform, as a cloud alternative to on-premise PBX systems.
A full-stack collaboration suite with the flexibility of adding and removing Contact Centre agents, phones and video endpoints.
Rich collaboration experiences allowing all devices and communication tools to interoperate.
An open and intelligent user experience using artificial intelligence and machine learning to turn calling into cognitive collaboration.
Flexible cloud transition paths. Simplify the transition by with one way to buy Cisco Calling, whether on cloud, hosted, or on-premises.